My Blog
Posts for: October, 2021
By Palos Dental Center
October 16, 2021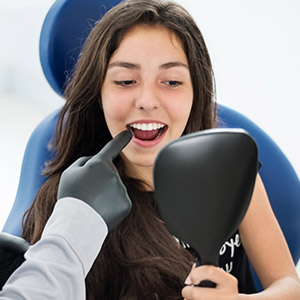 Here's some good news: Teenagers are less likely than adults to lose teeth to dental disease. But there's also a flip side. Teens can still lose teeth, more likely from traumatic injury.
Fortunately, there are several options for replacing lost teeth like dentures or bridges. But the choice considered best by most dentists and patients is a dental implant. An implant tooth looks and functions like the real thing—and it's durable, capable of lasting for years, if not decades.
But there's a hitch with teens getting an implant: Even though they may have all their permanent teeth by adolescence, their jaws are still growing and developing. Natural teeth, with their attachment to the jaws by way of a periodontal ligament, can keep pace with this growth—but implants can't.
That's because an implant doesn't have this attachment to gum tissue like natural teeth, but to the jawbone alone. Hence, an implant tooth can't keep up with jaw development, and may eventually look like it's "sunk" into the gums in relation to the teeth around it.
It's best, then, to wait until a teen's jaws have fully developed before attempting an implant. In the meantime, though, they don't have to endure a smile marred by missing teeth, but can replace them with a temporary restoration. The two most common options are a partial denture or a modified bridge.
The partial denture is a lightweight version that's quite affordable. Although not as durable as other types of dentures, the appliance is only intended to last until the patient is old enough for a permanent implant.
The modified bridge is a prosthetic tooth with strips of dental material extending behind it that are bonded to the backs of the teeth on either side to hold it in place. It's likewise not as durable as a traditional bridge, but it can fill the bill until time to place an implant.
Although this adds an additional step in a teen's restorative journey after losing a tooth, it's necessary—waiting to place an implant after jaw maturity will help ensure a long-lasting result. In the meantime, a temporary tooth replacement will help them to enjoy a normal smile.
If you would like more information on dental restorations for teens, please contact us or schedule an appointment for a consultation. You can also learn more about this topic by reading the Dear Doctor magazine article "Dental Implants for Teenagers."
By Palos Dental Center
October 06, 2021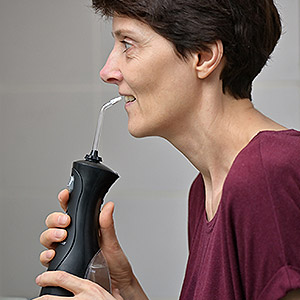 Dental plaque, that gritty bacterial film coating your teeth, is the top cause for tooth decay and periodontal (gum) disease. You can see and feel a lot of it—but not all of it. Some deposits can lodge snugly between your teeth, and can cause dental disease just as much as what's out in the open.
The problem with between-teeth plaque is that even a solid brushing habit might not effectively remove it. That's why you flossing should also be part of your daily oral hygiene.
If the thought of flossing, however, causes you to let out an audible sigh, we understand. Flossing typically engenders less enthusiasm than brushing, mainly because many find flossing time consuming and difficult to do.
If traditional flossing isn't your bag, we may have a reasonable alternative. Oral irrigation is a hygiene method for removing plaque between teeth using a pressurized water spray. You direct the water spray between your teeth using a handheld wand (which somewhat resembles a power toothbrush) and small hose attached to a countertop pump appliance.
A mainstay in dental offices, oral irrigators (or water flossers) have been available for home use since the 1960s. They're ideal for people who have problems with manual dexterity or who may not want to contend with flossing thread. They also make it easier for patients wearing braces to clean between their teeth, a monumental task using regular floss.
As to effectiveness, oral irrigation appears to match that of regular flossing, especially for orthodontic patients. Clinical studies in the early 2000s compared patients with braces using oral irrigation with those who were brushing only. Those using irrigation were able to remove five times as much plaque as the other group.
There are a number of comparable oral irrigation brands on the market from which to choose, and your dentist can advise you on features to look for when purchasing one. Just be sure you're using some method, oral irrigation or traditional flossing, to remove disease-causing plaque from between your teeth—either will go a long way in keeping your teeth and gums healthy.
If you would like more information on flossing methods, please contact us or schedule an appointment for a consultation. You can also learn more about this topic by reading the Dear Doctor magazine article "Cleaning Between Your Teeth."