My Blog
Posts for: May, 2017
By Palos Dental Center
May 26, 2017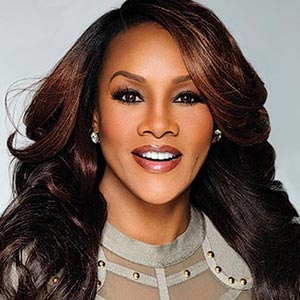 What's an actor's most important feature? According to Vivica A. Fox, whose most recent big-screen role was in Independence Day: Resurgence, it's what you see right up front.
"On screen, your smile and your eyes are the most inviting things that bring the audience in" she said. "Especially if you play the hot chick."
But like lots of people, Vivica reached a point where she felt her smile needed a little help in order to look its best. That's when she turned to a popular cosmetic dental treatment.
"I got veneers years ago," Ms. Fox told Dear Doctor magazine in a recent interview, "just because I had some gapping that probably only I noticed."
What exactly are dental veneers? Essentially, they are thin shells of lustrous porcelain that are permanently attached to the front surfaces of the teeth. Tough, lifelike and stain-resistant, they can cover up a number of defects in your smile — including stains, chips, cracks, and even minor spacing irregularities like the ones Vivica had.
Veneers have become the treatment of choice for Hollywood celebs — and lots of regular folks too — for many reasons. Unlike some treatments that can take many months, it takes just a few appointments to have veneers placed on your teeth. Because they are custom made just for you, they allow you to decide how bright you want your smile to be: anywhere from a natural pearly hue to a brilliant "Hollywood white." Best of all, they are easy to maintain, and can last for many years with only routine care.
To place traditional veneers, it's necessary to prepare the tooth by removing a small amount (a millimeter or two) of its enamel surface. This keeps it from feeling too big — but it also means the treatment can't be reversed, so once you get veneers, you'll always have them. In certain situations, "no-prep" or minimal-prep veneers, which require little or no removal of tooth enamel, may be an option for some people.
Veneers aren't the only way to create a better smile: Teeth whitening, crowns or orthodontic work may also be an alternative. But for many, veneers are the preferred option. What does Vivica think of hers?
"I love my veneers!" she declared, noting that they have held up well for over a decade.
For more information about veneers, please contact us or schedule an appointment for a consultation.
By Palos Dental Center
May 11, 2017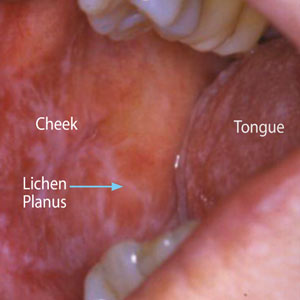 If you've noticed a small sore in your mouth, it's possible you have a non-contagious disease known as lichen planus. Although usually benign, it's still a good idea to have it examined and monitored.
The condition is so named because its lesions are similar in appearance to lichen, the algae and fungi organism often found on rocks and trees. It's believed to be a type of autoimmune disease, in which the body treats some of its own cells as foreign and reacts adversely to them. Certain medications and substances may also cause a lichenoid reaction. Besides the inner cheeks, gums or tongue, lichen planus may also appear on other skin or mucous surfaces on the wrists, legs or fingernails.
When it appears inside the mouth it usually resembles a lacy pattern of white lines or ulceration. Gum tissues may become red and inflamed, with some soreness after brushing or eating. Although there's no known cure for lichen planus, it rarely causes serious problems — in fact, you may not even be aware you have the condition unless pointed out during a dental exam. It may, in time, fade away.
If the lesions do become bothersome (painful, itchy or overly-sensitive), there are some ways to ease discomfort: brushing with a soft toothbrush (to minimize irritation), flossing, and avoiding acidic or spicy foods and beverages which have been known to cause flare-ups. Managing stress is also helpful, and a topical steroid may be prescribed for more severe outbreaks.
Perhaps the greatest concern with lichen planus, though, is it may resemble more serious conditions, particularly oral cancer. The only way to be certain that it is a benign condition is to perform a biopsy on some of the affected tissue. If you notice a problem, be sure to visit us for a complete examination. And regardless of whether you have the condition or not, regular oral cancer screenings, as well as limits on alcohol consumption and stopping use of tobacco, will also reduce your risk of oral cancer.
Odds are if you have a case of lichen planus it isn't causing you any problems. If it does cause you discomfort, though, you can take steps to ease your symptoms.
If you would like more information on lichen planus and similar oral conditions, please contact us or schedule an appointment for a consultation.