My Blog
Posts for: October, 2014
By Palos Dental Center
October 20, 2014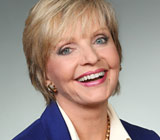 Florence Henderson has inspired generations of people through her portrayal of America's most beloved TV mother, Carol Brady, on one of the longest running situational comedies, The Brady Brunch. Today Florence is still a role model but for a much different audience: senior citizens.
Henderson created the FloH Club as an organization to assist senior citizens with understanding and embracing technology, as she described in an interview with Dear Doctor magazine. "I was inspired to create the FloH Club because of my own fear of technology and because I didn't want to keep asking my children for help," she said.
And while Henderson was blessed with naturally straight teeth and has had no cosmetic work done, she is not opposed to it. "I wouldn't care how old I was, if I had misaligned teeth or felt I needed cosmetic dentistry I would certainly do it!"
One teeth-straightening option many adults consider is clear orthodontic aligners. They are an excellent way for self-conscious adults to align their teeth without feeling that they will appear as an awkward "brace-faced" youth — a look that is commonplace for the teenage years.
But what are clear aligners? They are an alternative system to traditional braces that use a sequence of individual, custom-fitted trays that are clear and removable to gradually straighten teeth. They are usually recommended for correcting mild to moderate spacing problems or crowding of the teeth, and for cases in which there are no major issues with your bite (i.e., your back teeth fit together properly and biting forces are distributed evenly on all of your teeth).
To learn more about this method of aligning teeth, you can continue reading the Dear Doctor magazine article "Clear Orthodontic Aligners." Or you can contact us today to schedule an appointment so that we can conduct a thorough examination and discuss what treatment options will be best for you. And to read the entire interview with Florence Henderson, please see the Dear Doctor article "Florence Henderson."
By Palos Dental Center
October 20, 2014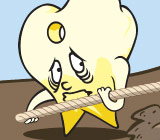 Tooth decay (also known as caries by professionals and as cavities by consumers) is an infectious disease process that damages tooth structure. Cavities, hollowed-out holes in the teeth, are the most common result of untreated caries. It affects millions of Americans, young and old alike.
How does this destructive process happen? It begins when acid-producing bacteria multiply beyond normal levels in the mouth. Dental plaque, a film of remnant food particles and bacteria, cover the teeth due to poor oral hygiene. The bacteria break down sugars and carbohydrates present in the mouth, which in turn produces acid. Too many "bad bacteria" can raise the acidic level in the mouth.
The normal pH level of the mouth is neutral — 7 on the pH scale. But when the acidic level increases, dropping the pH to 5.5, the calcium and phosphate minerals in the hard, protective layer of tooth enamel begin to dissolve in a process known as de-mineralization. A healthy flow of saliva, however, acts as a buffering agent to return the pH level of the mouth back to neutral. Saliva also contains calcium and phosphate that can replace those lost from the enamel and is referred to as re-mineralization.
So, a constant battle rages within the mouth. On one side acid-producing bacteria, the possible absence of saliva, and poor diet and hygiene habits create the conditions where teeth enamel loses its mineral strength, allowing decay to eventually invade the fragile inner dentin of the tooth; on the other side is an adequate flow of saliva, a good diet and hygiene, boosted by treatment options like sealant application, antimicrobials and the topical application of fluoride.
The key, of course, is prevention. We add protection to the teeth by strengthening them; applying fluoride topically is the best approach, along with sealants that can be applied in our office. We reduce the level of acid-producing bacteria, usually with an anti-bacterial mouth rinse. You can also adopt a healthier diet that limits sugars and carbohydrates and reduces snacking between meals.
These preventive measures, along with early treatment of known tooth decay, can help you avoid the full impact of this destructive disease.
If you would like more information on tooth decay and how to prevent it, please contact us or schedule an appointment for a consultation. You can also learn more about this topic by reading the Dear Doctor magazine article "Tooth Decay."